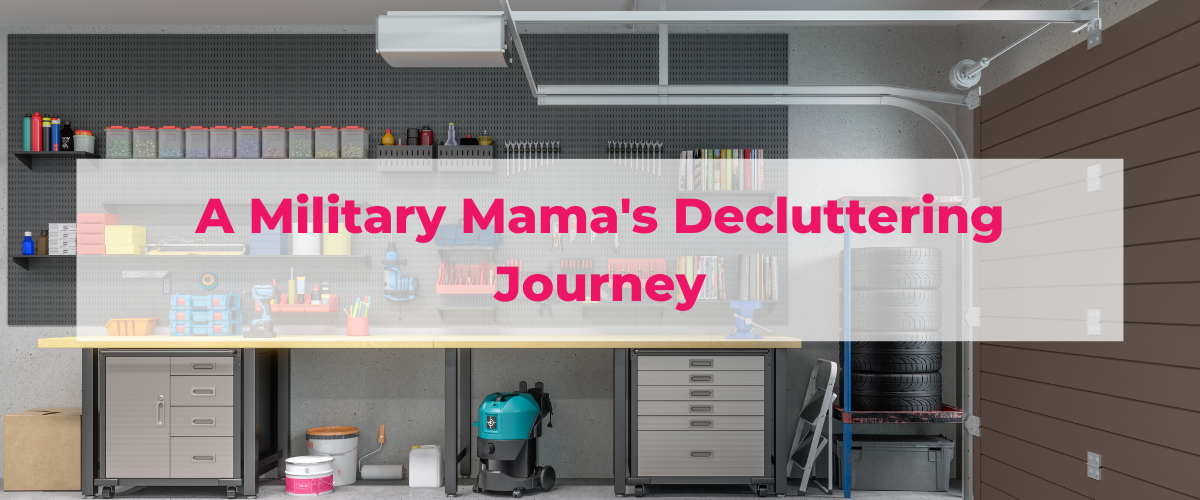 What's in your garage?
1. My car, duh!
2. Ummm, literally everything BUT my car.

If your answer is #2, it's OK! Prioritize Your Sanity has the tools and support you need to take back your garage space.
That's why this week's Sunday Success Story features Julianna — a Clutter Boss, military wife, and mother of three young girls who is actively working on decluttering her entire home, including the garage. Decluttering is a family event in Julianna's house. After they all helped with decluttering the garage, Julianna treated her family to a living room picnic and enjoyed a Halloween movie!

Being a military family, Julianna is accustomed to the stress of moving every three years. The thing is, military families never know what they're moving into. In Julianna's case, they went from a 2,500 sq. ft. home in Texas to a 1,100 sq. ft. home in New York. So moving into a much smaller house presented many decluttering challenges.
The living room was the first room that Julianna decluttered.
"We are not done with everything yet, but the kids LOVE the wide open space on the floors to play! Even my six-year-old, who never wants to get rid of anything, says 'space makes me happy!'"

What Julianna finds most valuable about Clutter Boss Academy is the constant flow of support.
"Jes has members from all over the world. So even at 2am, someone answers you in the Facebook group! I am also a very competitive person, so I've enjoyed the monthly challenges. With the Clutter Bootcamp videos, I find myself getting different takeaways from them every time. For me, tackling the "freebies" was really hard. I really felt attached to the "free" things I've acquired from neighbors and friends. Because nothing is truly free when it costs space in your home and thoughts in your head!"

Your garage looks fantastic, Julianna! And I bet your husband is happy to park his motorcycle in it. We are all so proud of you, and we thank your husband for his service.

If Julianna's story has inspired you today, then please join us in Clutter Bootcamp!
---